I2UP
United Data Management Platform
With the development of information technology, data has become the core assets of organizations, but some scattered and isolated data has not been effectively used, resulting in further overstaffed and complex IT system. In order to solve these data management problems, Information2 launched the united data management platform (i2UP). i2UP includes data protection, disaster recovery, migration, synchronization, distribution, sharing, integration, archiving and other multi-dimensional data management functions for physical machines, virtualization and cloud environment. It helps customers to achieve efficient and intelligent data management, interact with single portal to manage the lifeline of enterprise information.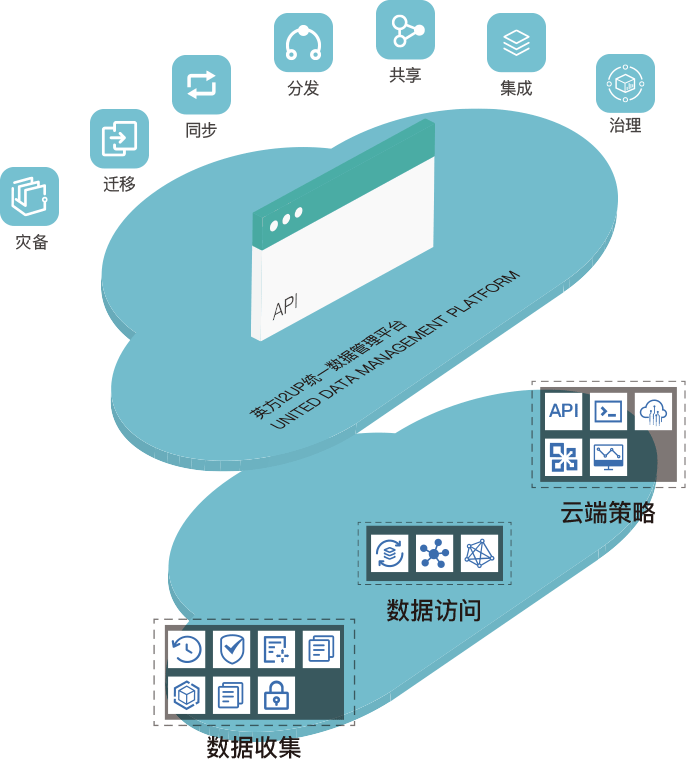 i2UP Data Management Strategy:
i2UP adopts integrated management software, including data collection, data access and cloud data.
Data collection

Real-time Disaster Recovery
Real-time data replication, cross platform & regional data disaster recovery, united management of local and cloud data resources

Continuous Data Protection
Continuous protection of fine-grained data, can be restored to its state at any timepoint.

Online Live Migration
The overall migration of the system without business downtime

Full Server Backup
Windows / Linux full server backup applies to system backup, protection before system upgrade, and non-stop migration at system level.

Application High Availability
High availability protection for kinds of application systems in local / remote / cloud end; realize automatic and quick takeover and group switching.

Data Scheduled Backup
Regular backup of structured data, unstructured data

Data Security Encryption
Multiple-level authority management and audit, can prevent illegal access, and encrypt data in data transmission process, and ensure data security
Data access

Structured Data Synchronization
Realize structured data's extraction, synchronization, distribution, disaster recovery and main database task allocation in complex environment

Data Flow Branch Management
Realize the extraction, replication and management of structured data, and can be compatible with Kafka message queue, and support the management between heterogeneous databases and big data platforms, like rapid data synchronization and transformation.

Big Data Backup
Real-time data backup of big data platform; support multiple concurrent data export, data loading and efficient transmission.
Cloud strategy

API
Open API interface can realize compatibility and docking of cloud and other third-party environments

REST/Command line
i2UP can be accessed by REST or command line for user's integration development
Cloud DR
Multiple users architecture ensure data isolation and data security
Service Automation
Service delivery automation and integrated management can be realized by embedding products into service catalog and orchestration tools.

Visualization Control Management
With visualized web interface, it can realize visibility and control of data and global management.
Privacy
When you register with partners on this website, this website will collect your relevant information and keep records. The personal information collected by this website includes but is not limited to: name, address, company, location, telephone number and e-mail address. The more and more accurate information you offer, the better we can provide you with relevant services.